What is a Class F fire?
Fire class is a term used to denote the type of fire in relation to the combustion material which have ignited, a Class F Fire is described as combustible materials consisting of cooking oils, fats, frying oils etc.
All Firexo Fire Class ratings have been achieved through the EN fire tests.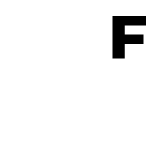 Class F fire rating explained.
When testing an extinguisher against Class F guidelines, there are 5 different sizes of fire that can be attempted. These different difficulty levels are set up to distinguish what size of fire the extinguisher can handle, these levels are as follows; 3F, 5F, 25F, 40F, and 75F.
The number of the fire test is the total amount of oil used, so a 3F fire is 3 litres, whilst a 75F fire is 75 litres.
When an extinguisher is subjected to a Class F fire test, it must extinguish a tray of vegetable oil that has been heated to self-ignite.
The size of the oil increases as the fire rating increases to allow for the additional oil.
Once the oil has self-ignited then is it is allowed to burn for 2 minutes, the fire fighter is then sent into the fire with a single extinguisher and must extinguish the fire in one continuous action.
In order to pass the test, there must be no flames left in the oil at the end, and the oil is observed for a further 20 minutes in case re-ignition occurs.
You are allowed 3 tests and the extinguisher must pass two of the three to be deemed successful for class F rating.
FIREXO
CLASS F RATINGS
Available sizes:
2 Litre 25F6 Litre 75F9 Litre 75F500ml 5F
Fire test guidelines are designed to be several times the magnitude of anything the extinguisher would be expected to tackle in the real world.